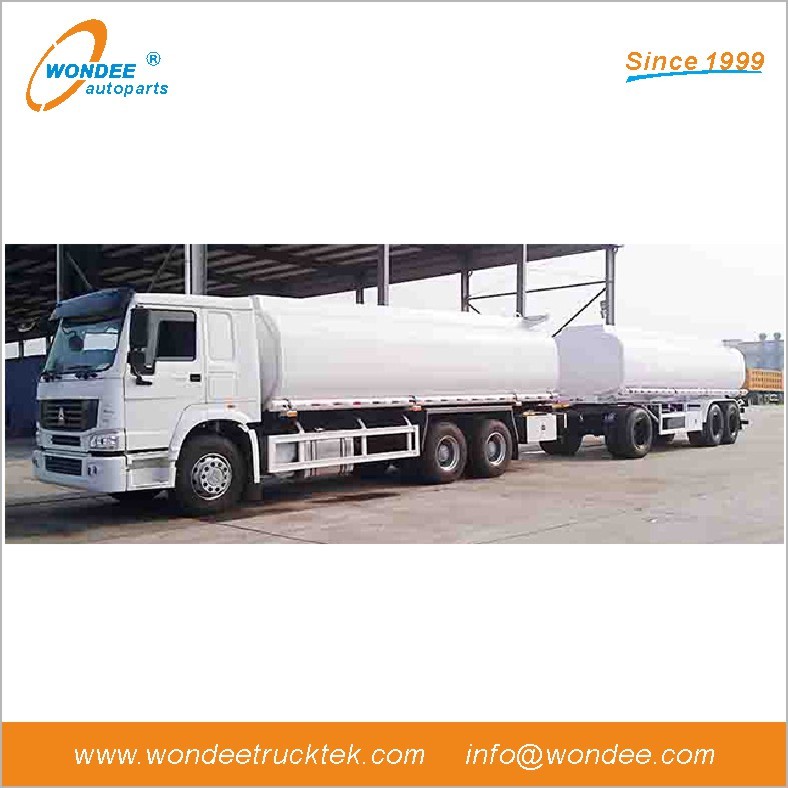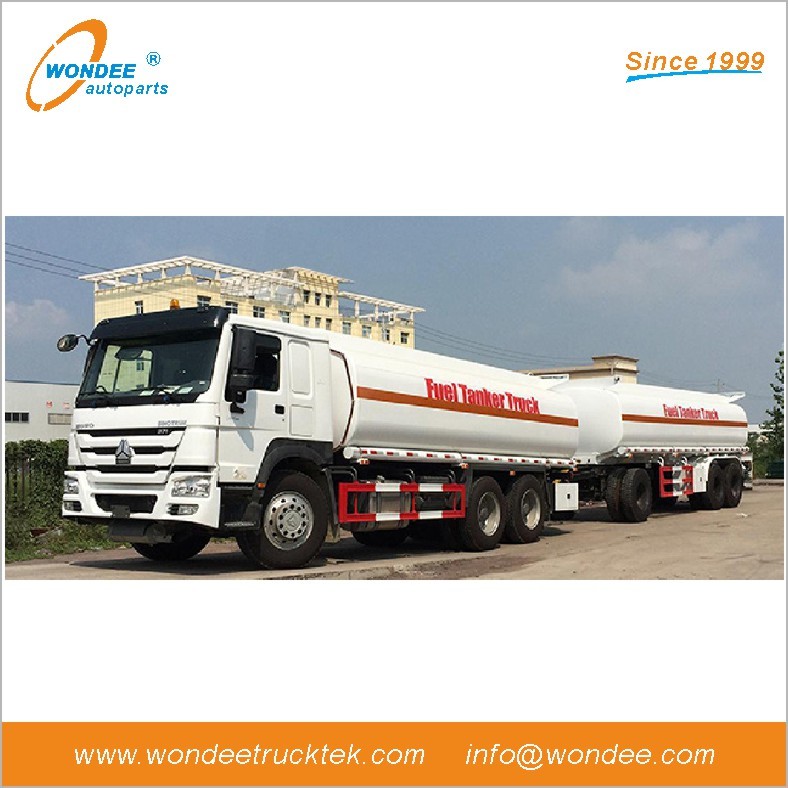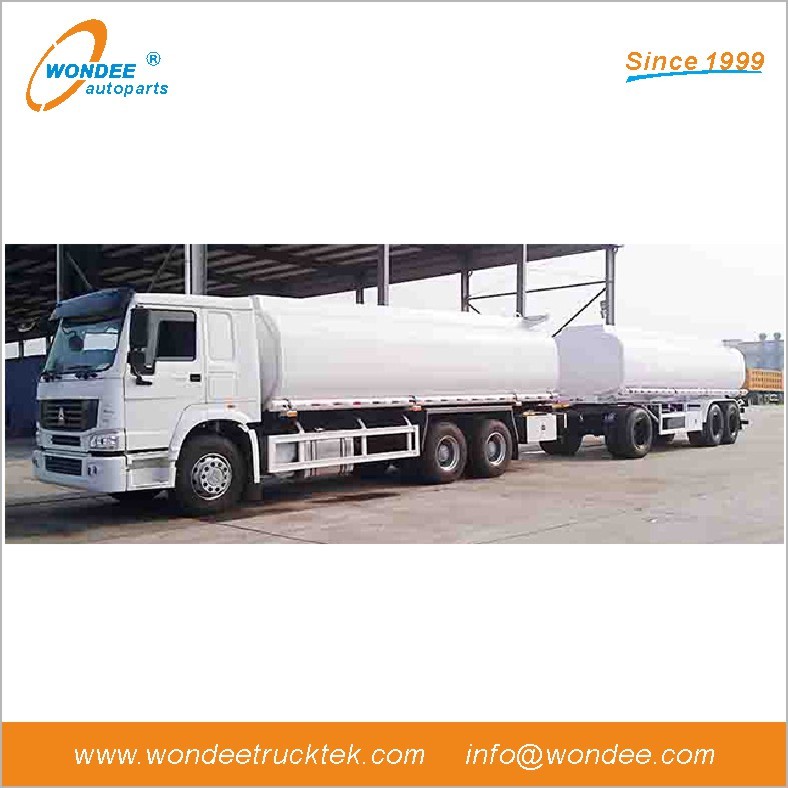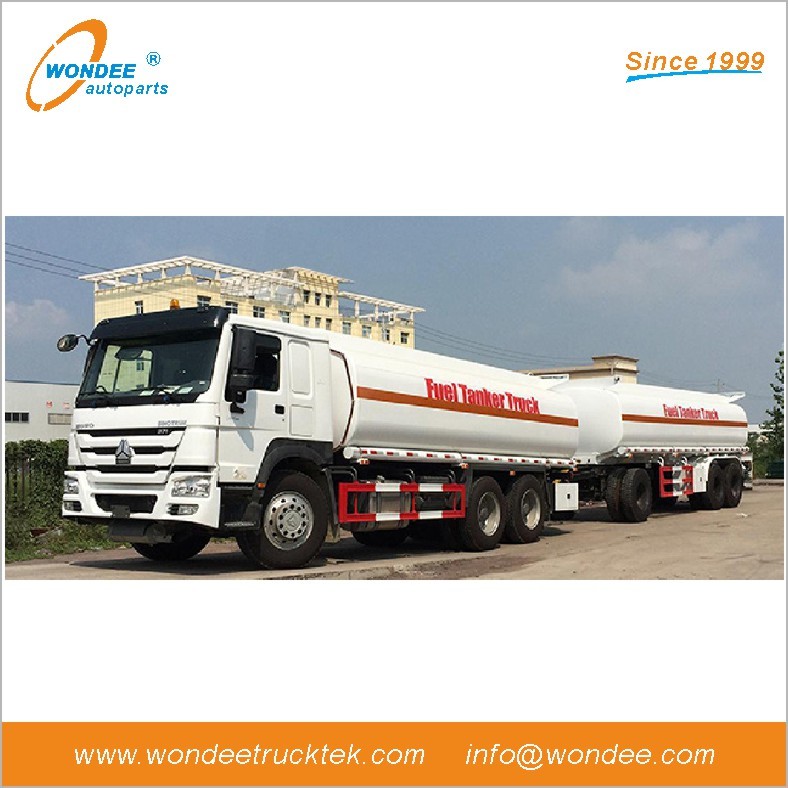 SINOTRUK HOWO 25CBM 6x4 Fuel Tank Truck with Computer Refuelling System
---
Engine : WD615.47-371HP Chassis model : ZZ1257N4641W Volume : 25000 liters
---
Inquire Now
---
Product Description
The Oil Tank Truck is also called mobile fuel trucks, computer refueling vehicle, oil tanker, tanker loading oil, pulling oil, oil truck, edible oil transport vehicle, mainly for oil derivatives (gasoline, diesel oil, lubricating oil and coal tar oil) transportation and storage.
Specification
Chassis

Driving Type

6×4 left hand driving or right hand driving

Chassis Model

ZZ1257N3847

Engine

Model

WD615.69

WD615.47

Horsepower

336hp

371hp

Maximum output

247/2200 Kw/r/min

273/2200 Kw/r/min

Maximum torque

1350/1300-1600 N.m/r/min

1500/1100-1600 N.m/r/min

Type

6-cylinder in line, 4-stroke, water-cooled, turbo-charged & inter-cooled, direct injection

Bore x Stroke

126×130mm

Valve

2

Displacement

9.726L

Make SINOTRUCK (CNHTC), Euro II emission standard, Thermostat with 80℃ opening begin, Rigid fan

silicone oil fan; Cold-start with electric-inlet-air heating System (180Ah battery)

Cab

SINOTRUK HW76 Lengthen cab, single bunk, adjustable steering wheel, EURO new type heating & ventilating system,
German VDO instruments, safety belts, exterior sun visor, stereo radio/cassette recorder, left driving, air conditioner
Option: right hand driving; color

Clutch

SINOTRUK Φ430 diaphragm-spring clutch, hydraulically operating with air assistance

Transmission

SINOTRUK HW19710 transmission ,10 forward and 2 reverse
Ratio:14.28 10.62 7.87 5.88 4.38 3.27 2.43 1.80 1.34 1.00 13.91(R1) 3.18(R2)

Front Axle

SINOTRUK HF9 Front Axle, new 9-ton front axles of equipped with drum brakes

Steering

German ZF8098 Steering Gear Box, hydraulic steering with power assistance, Ratio:22.2-26.2

Rear Axles

HC16 Heavy reduction drive axle, STR hub-reduction with differential locks between wheels and axles, enforced STR axle, ratio:4.8 or 5.73;The basic configuration of HOWO series construction vehicle can be used in such bad environment as bad road condition, heavy impact and overloading, which is the best choice for heavy construction vehicle customers.

Brake System

Service brake: dual circuit compressed air brake
Parking brake (emergency brake): spring energy, compressed air operating on rear wheels
Auxiliary brake: engine exhaust valve brake

Tyres

Rims:8.5-20,10 hole-steel;

Tyres:12R22.5 tubeless tyre with 1 Spare tire.

Optional:12.00R20 radial tyre, 315/80R22.5 tubeless tire

Electrics

Operating voltage:24V, negative grounded
Starter:24V,7.5 Kw
Alternator:3-phase,28V,1500 W
Batteries:2×12 V,165 Ah
horn, headlamps, fog lights, brake lights, indicators and reverse light

Oil Tank

Square type-300L Aluminum alloy fuel tank

Weight
kg

Kerb weight 13220
Gross vehicle weight 25000
Front axle loading capacity 9000
Rear axles loading capacity 2×16000

Packing

Nude Pack. The packing of the commodity shall be in accordance with the export standard packing of the manufacturer, be suitable for long distance transportation of ocean and inland. The Seller shall be taken measures against moisture, shocks and rust according to the special needs of the commodity.

Fuel Tank Body

1.Tank is made of carbon steel. The whole tank can be separated into several Compartment. Diaphragm is welded in the middle of tank to reduce the pressure during the transportation.
2. Antirust paint is pained and container indicator is installed to show the capacity of the tank during the pump in or out
3.In order to ensure the tank pressure and atmospheric pressure are basically the same during their working , breathing valve is installed in the manhole cover .

4. With oil pump. Bottom loading and unloading, pump in and pump out.

5. Vapor recovering system, Flow meter is optional.

Thickness

End plate

6mm in high tensile strength steel

Tank body

5mm in high tensile strength steel

Tank Volume

Cubic Meters

25000 liters
Product Shows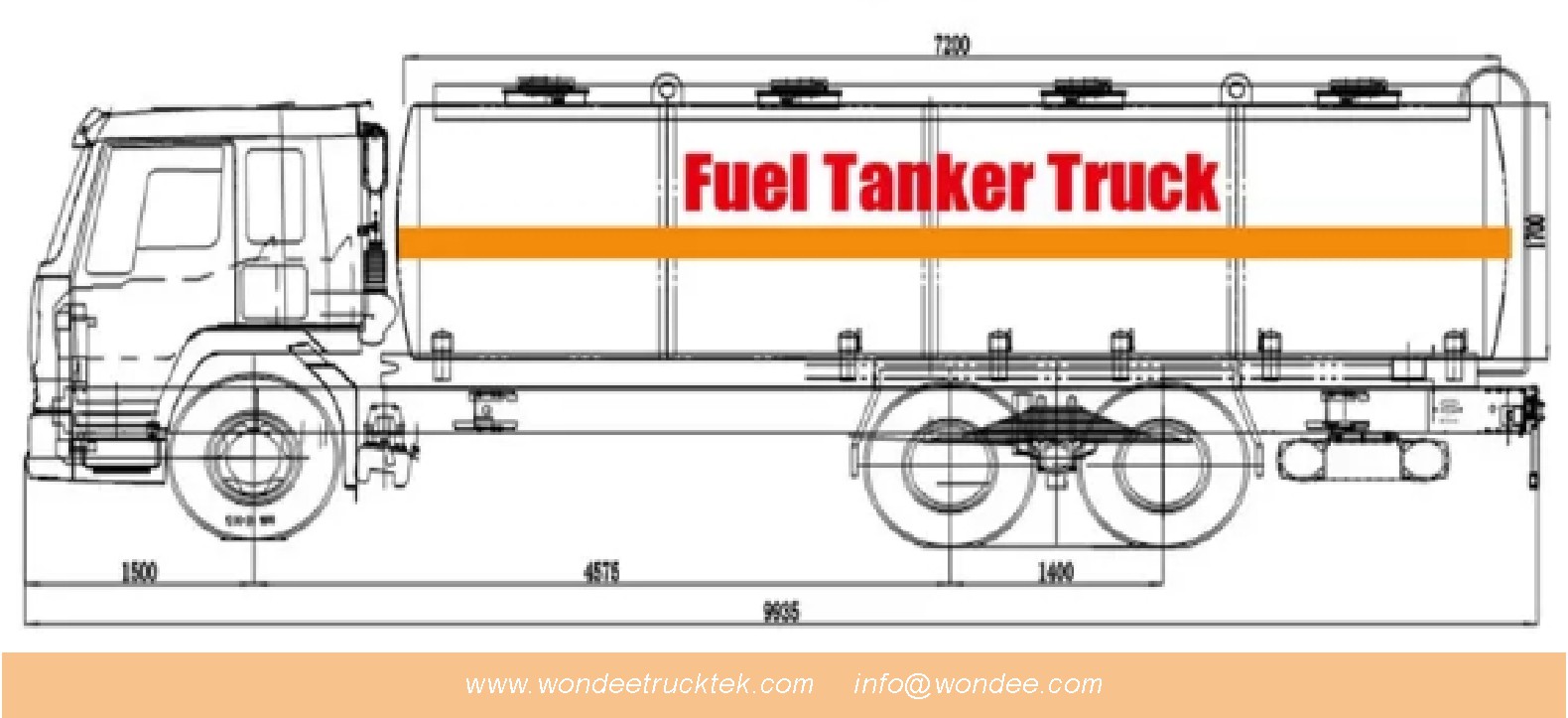 The fuel tank superstructure has four (4) compartments with a total capacity of 25.000 ltr.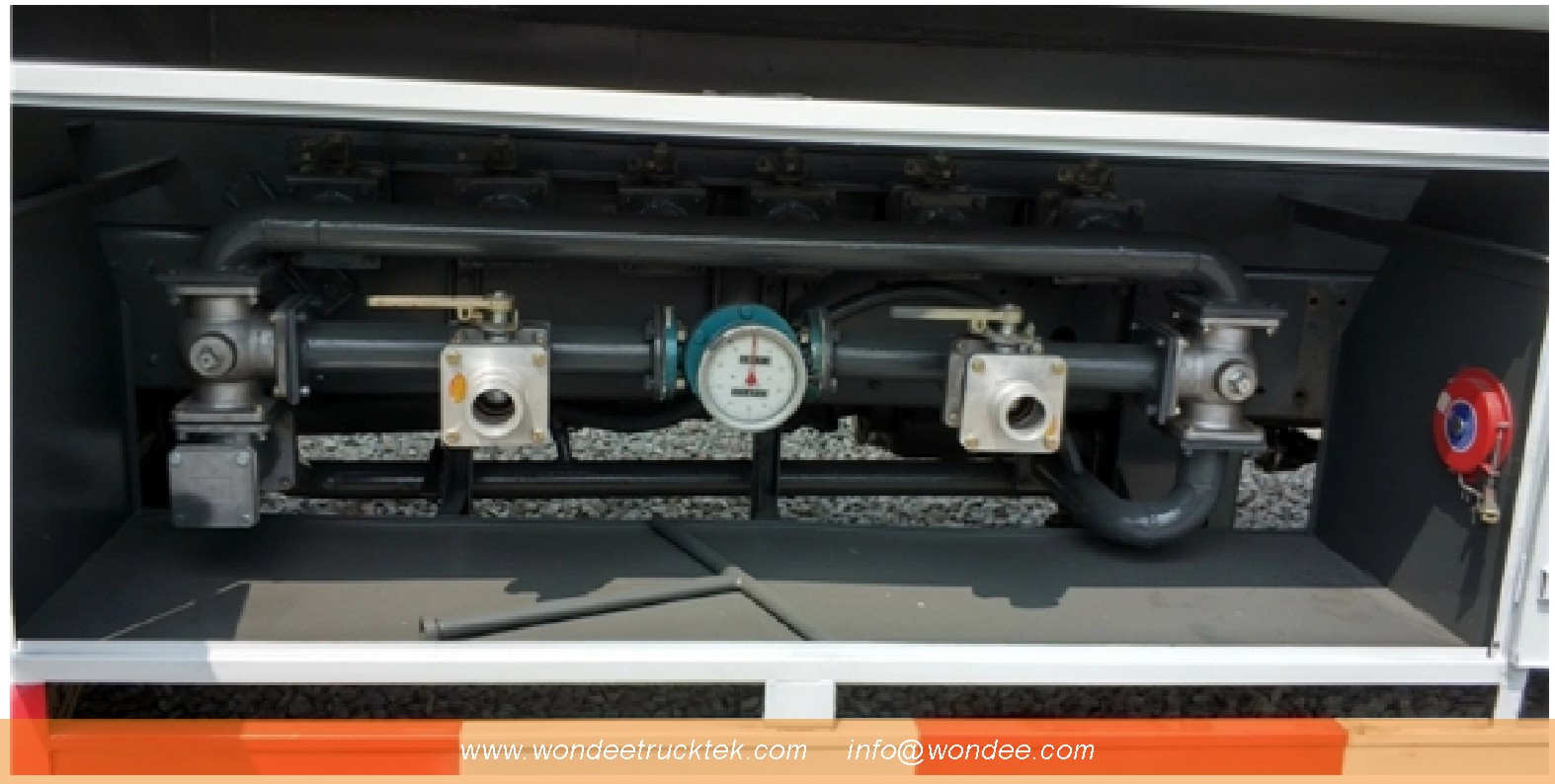 According to a variety of gas or oil, and the use of different environment with the oil, pump oil, a variety of oil equipment, put the function. Tanker special part is composed of a tank, PTO, drive shaft, gear pump,
pipeline system components. Pipes system is composed of an oil pump, three through four ball valve, two-way valve. Filter pipe.
Lockable bucket box (kerbside mounted) protects pumping equipment from the elements.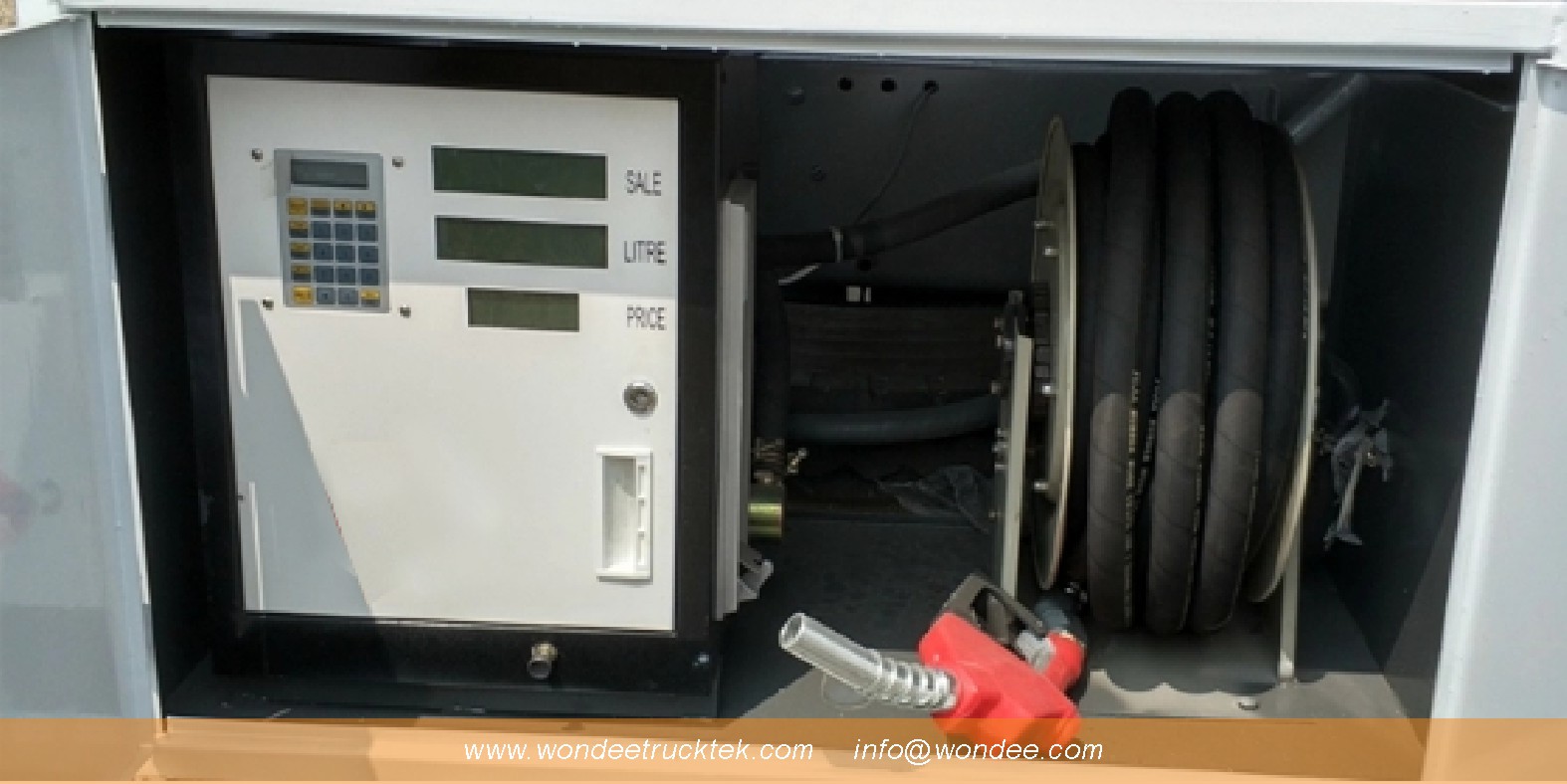 There is a large steel case at the rear end of the tank truck (right hand side) which protects perfectly the hose reel against the elements.
The hose-reel is spring loaded with 15 m and manual discharge nozzle for filling other vehicles.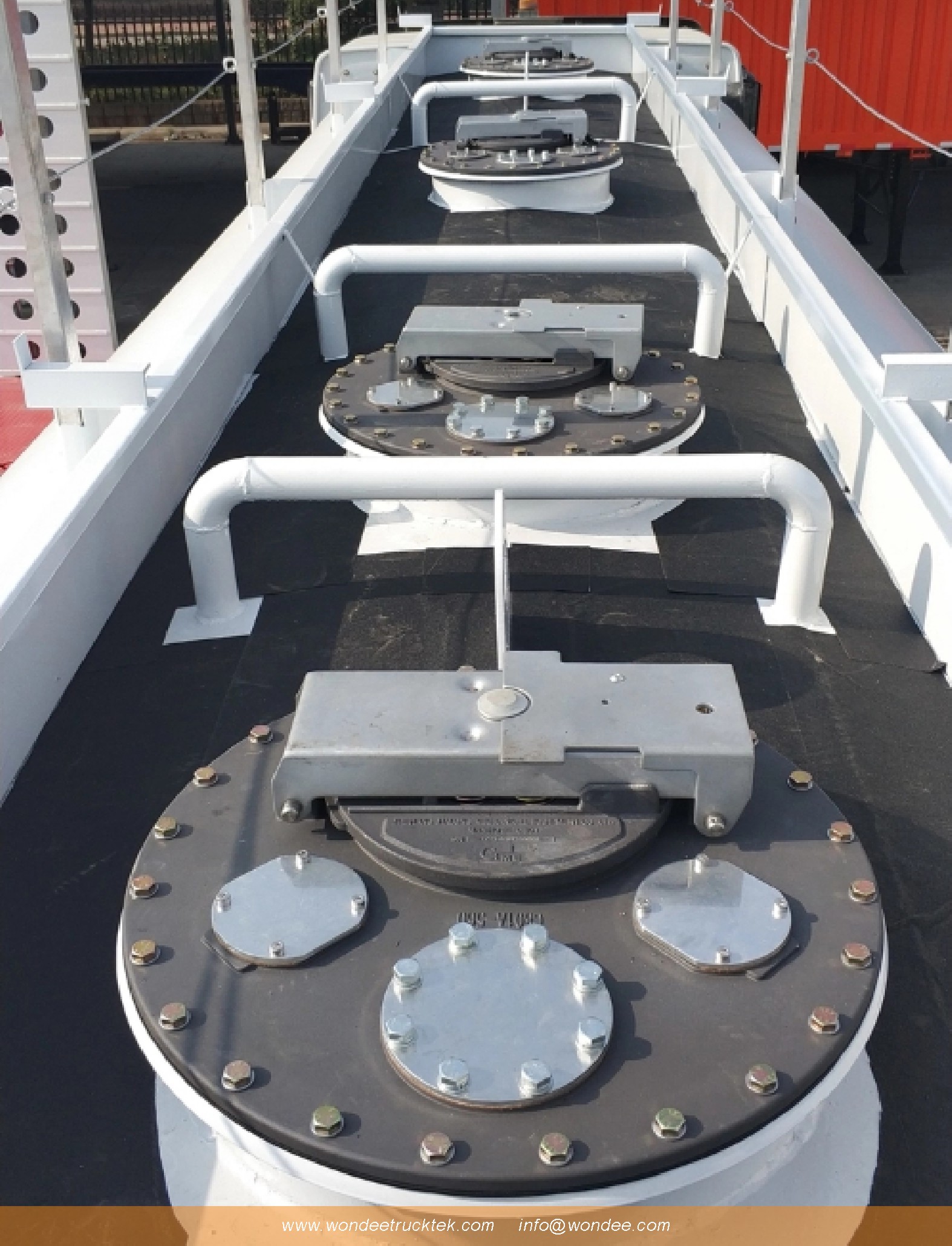 Open slip-resistant walkway on the top, with rear mounted access ladder. Collapsible handrail made of aluminum, fixed as safety barrier, according to our safety regulations along the dome-pan on top of the diesel tank superstructure. The operation of the handrail is manually, next to the access ladder.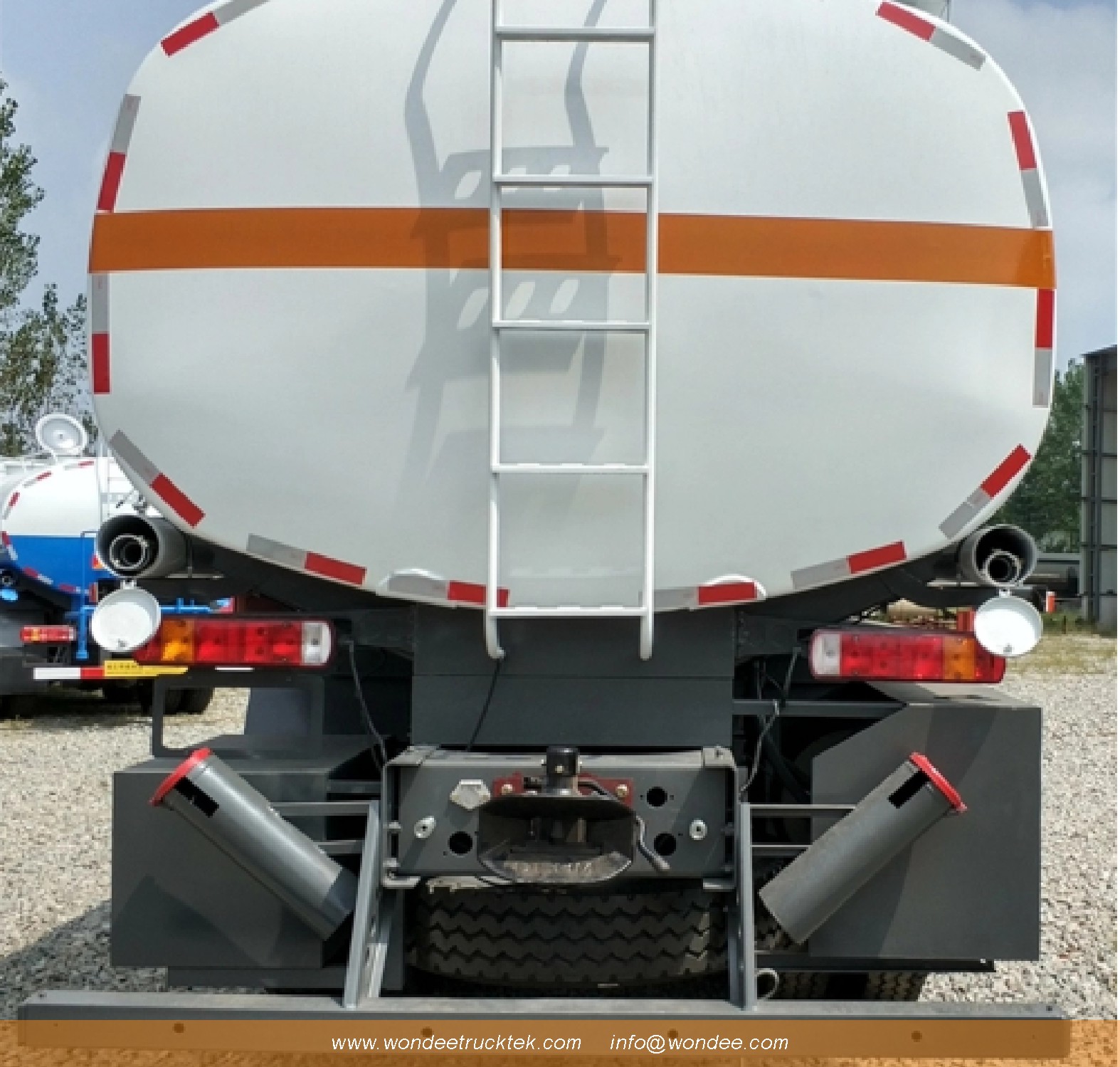 Competitive Advantage:
1) Divided into different oil products, chemicals, food, as liquid food truck, chemical liquid truck, insulation liquid vehicles, dangerous goods transport vehicles, the asphalt transportation vehicle
2) External sandblasting processing of tank, internal anti-corrosion treatment, Outside surface adopts advanced polyurethane paint, beautiful appearance
3) Our company produces the Oil tank truck with advanced butt welding technology, after the forming of the tank high pressure gas leak detection, the tank has a high intensity, stable center of gravity, safe and stable vehicle characteristics
4) Shot blasting pre treatment process after welding tank, rust, paint adopts the advanced baking technology, durable and beautiful appearance. Independent sub positions
5) with all kinds of truck model, which can fulfill your requirement
6) the key parts adopt the world's top technology products
7) based on strong technical support and top level technology make the trucks with high quality and more reliable
8) competitive price, cost-effective
9) quick and efficient spare parts supply bring you more convenient
10) fast delivery time, we can arrange production according to your needs exactly and quickly
11) professional import and export dealing procedure, make customs clearance more high efficiency
Batch export of vehicles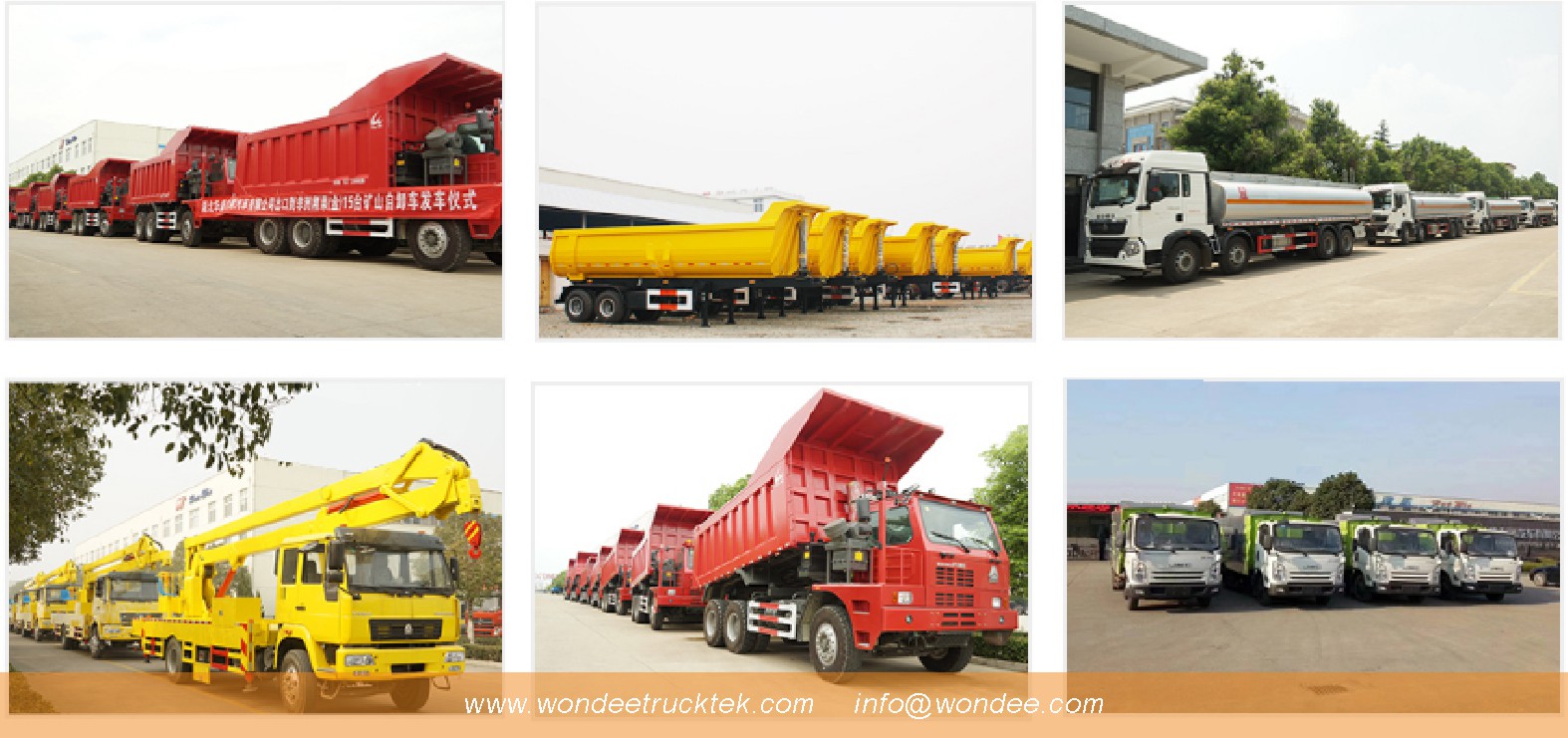 Ocean Shipping
The main products include semi trailers, leaf springs , spring steel flat bar, mechanical suspension, air suspension, bogie suspension, air bag, semi trailer axle, landing gear, brake drum, brake shoe, brake lining, mudguard, slack adjuster, air tank, coupling, emergency relay valve, brake hose, turntable, wheel rim, bolts, fifth wheel, king pin, air chamber, twist lock, jack, drawbar and so on.
MESSAGE
Filling in your communication information will help us get in touch with you in time.