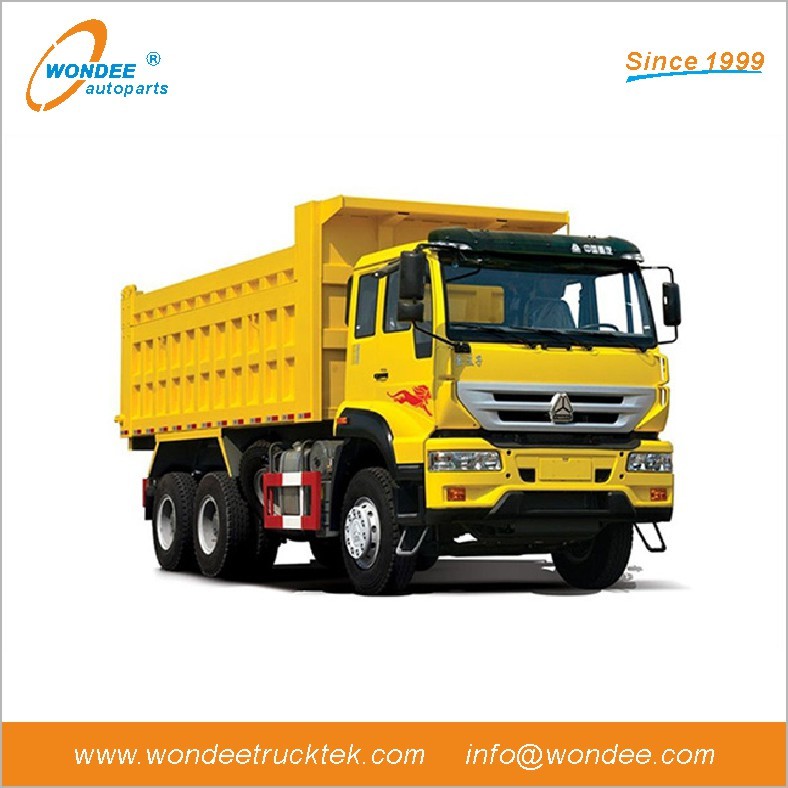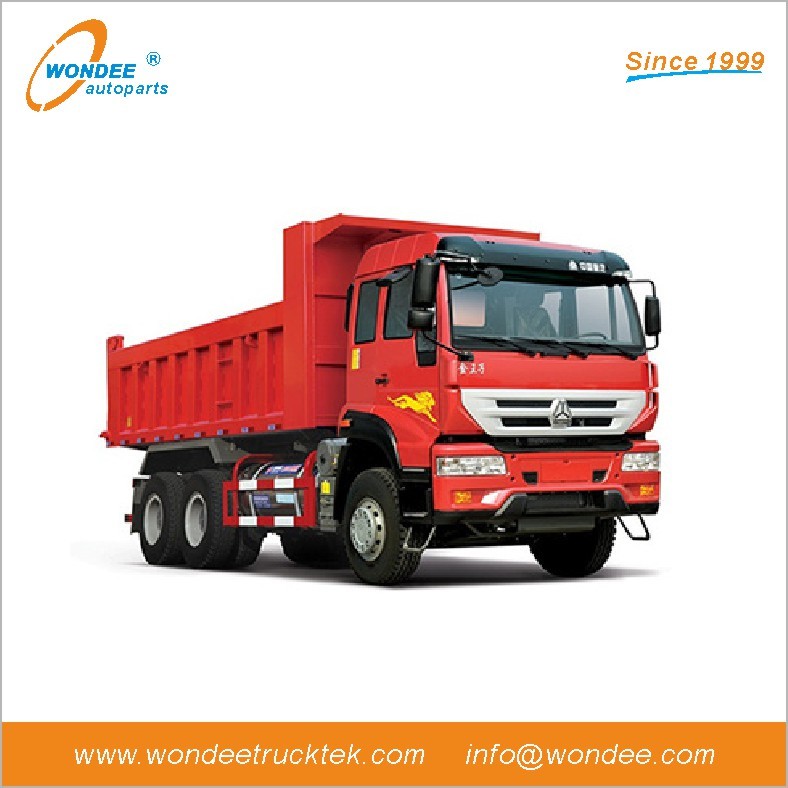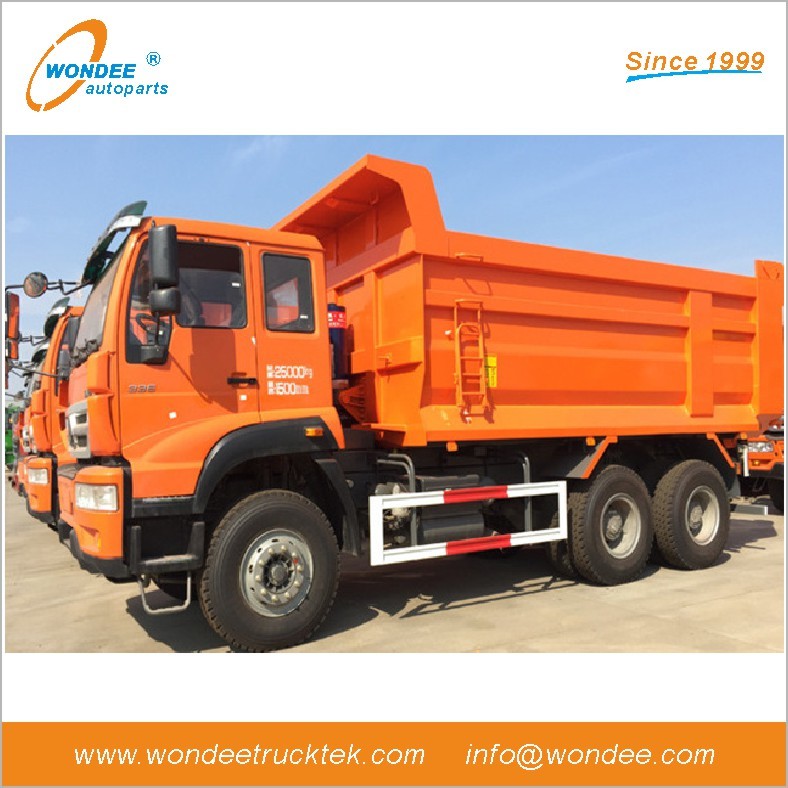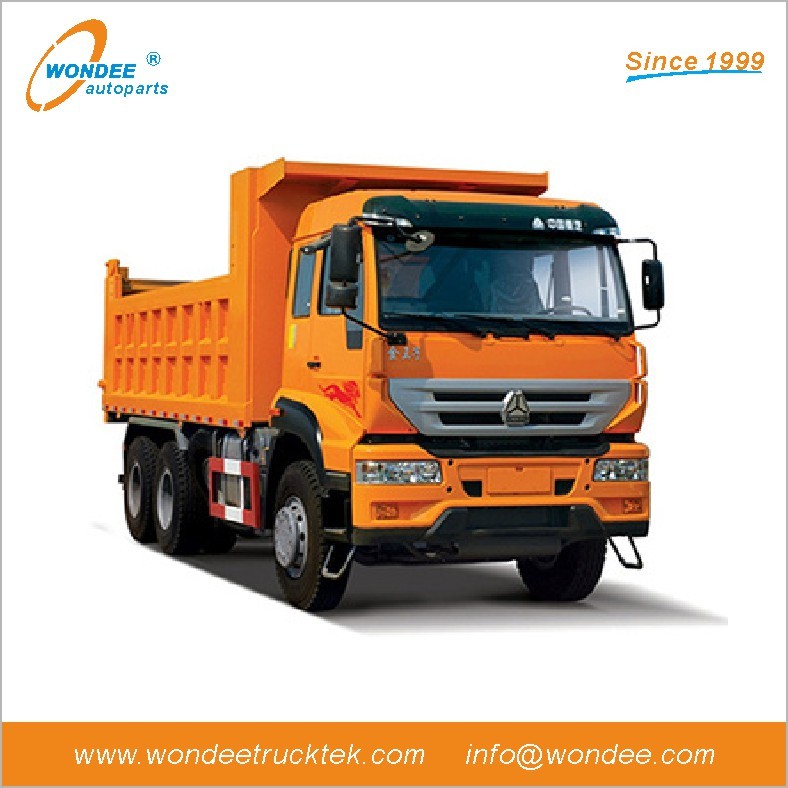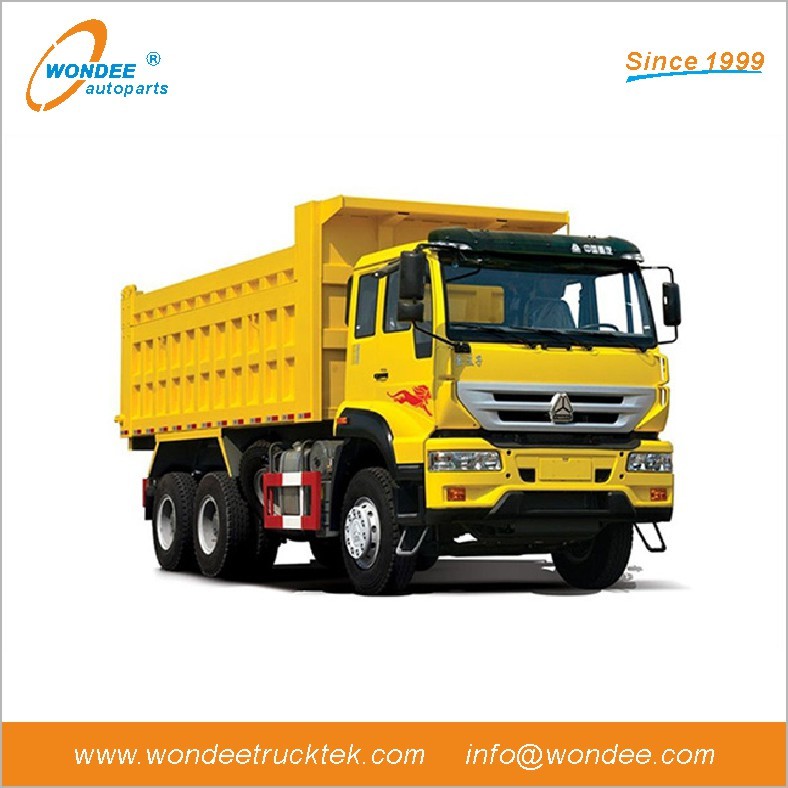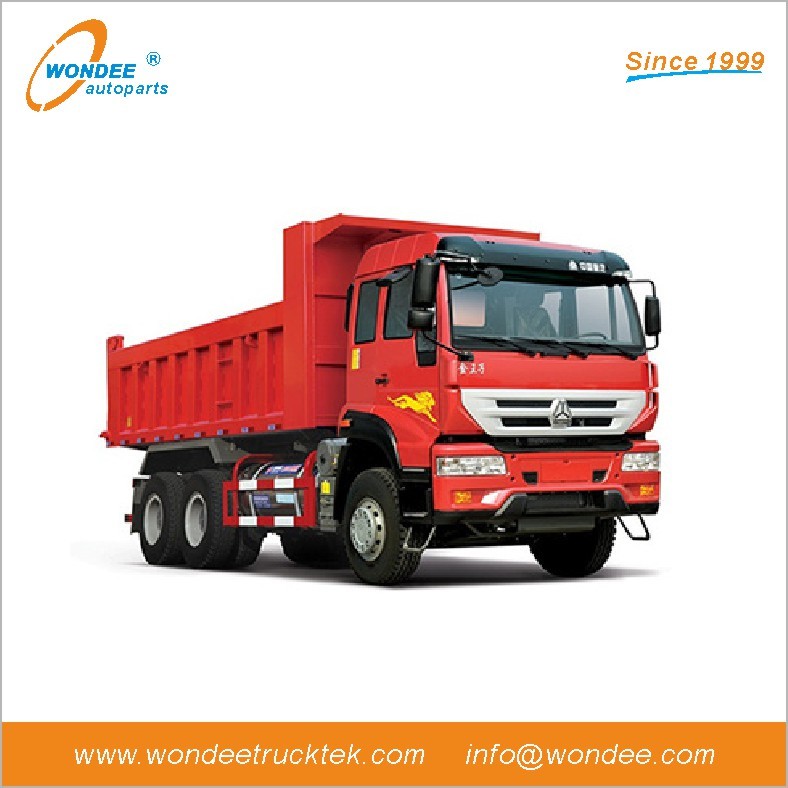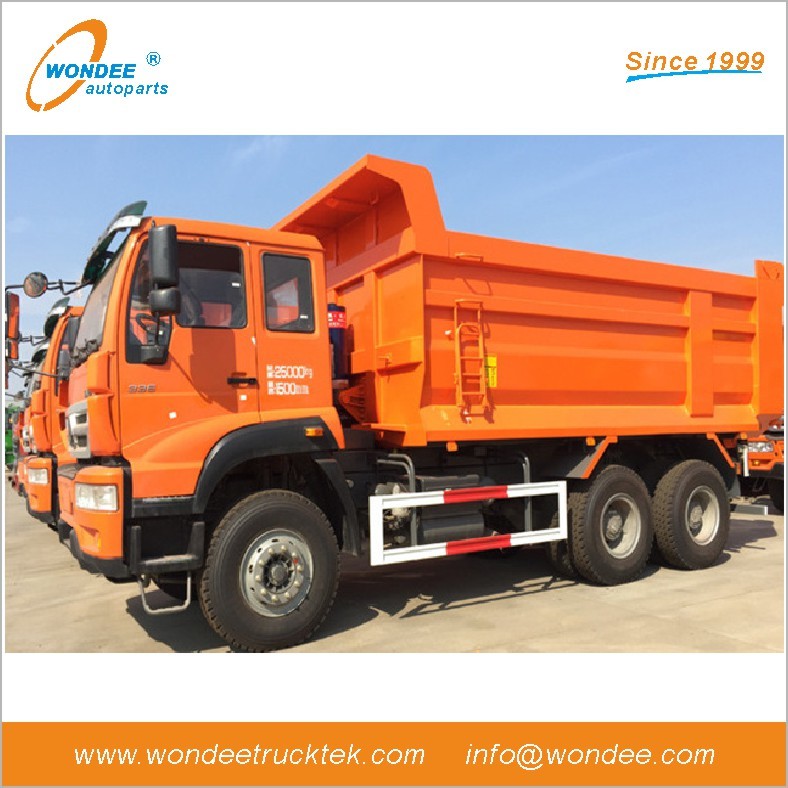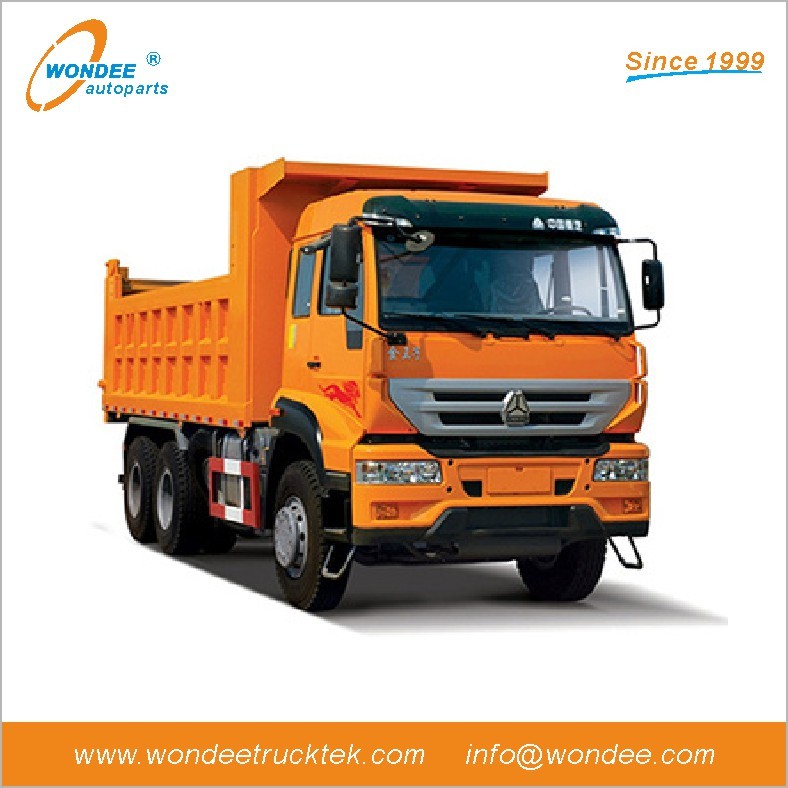 SINOTRUK 6×4 Dump Truck with 30T Loading Capacity
---
Engine : WD615.69, 336HP Chassis model : ZZ3251N3641 Capacity : 30T
---
Inquire Now
---
Technical Specifications
Model

ZZ3251N3241

ZZ3251N3641

ZZ3251N3841

ZZ3251M4241

Cab

L2000 Mid-length cab,single bunk,adjustable steering wheel,EURO new type heating & ventilating system,safety belts,exterior sun visor,

radio,left hand driving,air conditioner.Option: right hand driving;color;electric windows

Engine

Model

WD615.69

Horsepower

336

Maximum output

247/1900

Bore/Stroke

126x130mm

Valve

2

Displacement

9.726L

Type

6-cylinder in line,4-stroke,water-cooled,supercharging intermediate cooler

Make SINOTRUK (CNHTC), Euro2 emission standard,Rigid fan,165Ah Battery

Option:Silicone oil fan;Electromagnetic fan;Cold-start with electric-inlet-air heating System+180Ah battery

Transmission

HW19710 Transmission,10 forward and 2 reverse

Front Axle

SINOTRUK HF9 Front Axle,new 9-ton front axles of equipped with drum brakes.Option: disc brake

Rear Axles

SINOTRUK HC16 Heavy reduction drive axle,STR hub-reduction with differential locks between wheels and axles,ratio:5.73

Steering

D39 Steering,Option:German ZF Steering

Tires

Rims:8.0-20,10 hole-steel; Tyres:11.00R20 radial tyre with 1 Spare tire. Option:12R22.5, 315/80R22.5TUBELESS Tyres,12.00R20 radial tyre

Optional

ABS;Automatic Break Clearance Adjusting Arm;Traveling Data Recorder;Guard grating for engine oil bottom case

Carriage body

Box Dimension

5000x2300x1500mm

5400x2300x1500mm

5600x2300x1500mm

6000x2300x1500mm

Steel thickness

Floor:6/Side:4

Floor:6/Side:4

Floor:8/Side:6

Floor:8/Side:6

Hydraulic Lift

Middle Lift

Middle Lift

Middle Lift Front Lift

Front Lift

Steel thickness of Carriage floor optional 6、8、10、12、14、16mm

Steel thickness of Carriage side optional 4、6、8、10、12、14mm

Ordinary steel,optional Manganese plate high strength steel

Carriage lifting mode:4800-5600mm Middle lift F type and strengthening T type.5600-6300mm Front lift China system and HYVA system.

Weight (kg)

Gross vehicle weight (GVW) 25000

Front axle loading capacity 9000

Rear axles loading capacity 2x16000

Performance

Maximum driving speed (km/h) 75

Packing

Nude Pack.The packing of the commodity shall be in accordance with the export standard packing of the manufacturer

be suitable for long distance transportation of ocean and inland.

Note: The parameters are subject to change without prior notice. As for the detailed product configurations, please refer to the business contract.
The Highlight of Golden Prince Dump Truck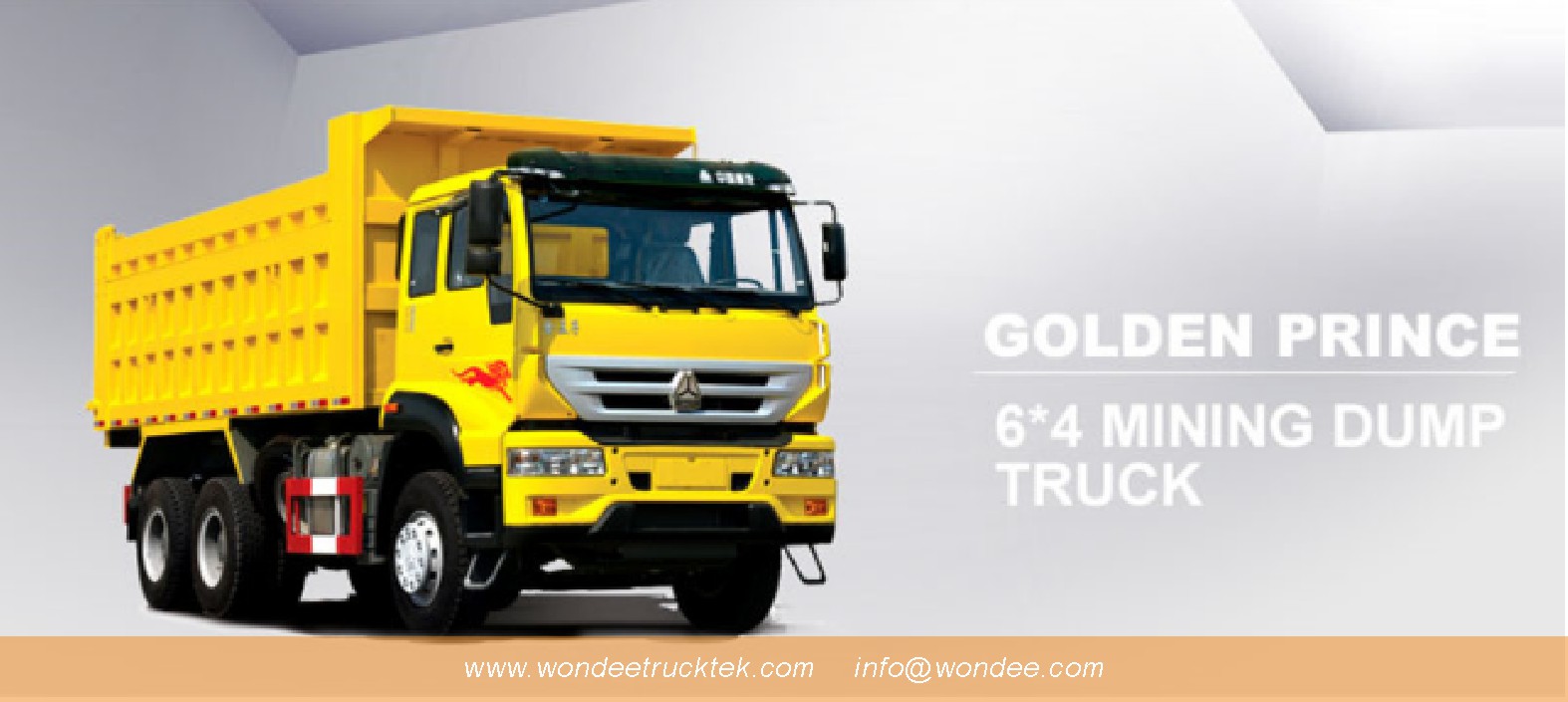 Golden Prince Series Trucks

Golden Prince Series heavy-duty trucks are developed by SINOTRUCK with mature whole vehicle match technology and MAN L2000 cab, meeting China's actual work conditions. The whole steel structure cab has high strength, compact structure and short front suspension, equipped with 4-point suspension mechanism, which is very safe and comfortable.
I. Cab
Higher Safety
The cab assembly adopts MAN L2000 cab technology, has high rigidity and meets Germany safety regulations. The engine EVB brake system has superior brake performance; The dual circuit pneumatic brake system meets European safety regulations.
More comfortable
Four-point suspension cab and pneumatic seat makes it more comfortable to drive. First-class cab sealing reduces noise and dust. The sleeper berth is 585mm wide, which is very comfortable. Car type instrument panel looks luxurious; integrated air conditioner control, cassette, cup holder, air outlet, and sundries box, are more ergonomically designed; Major functional buttons can be accessed easily for convenient operation; New interior of modern design is delicate and elegant.

II. Engine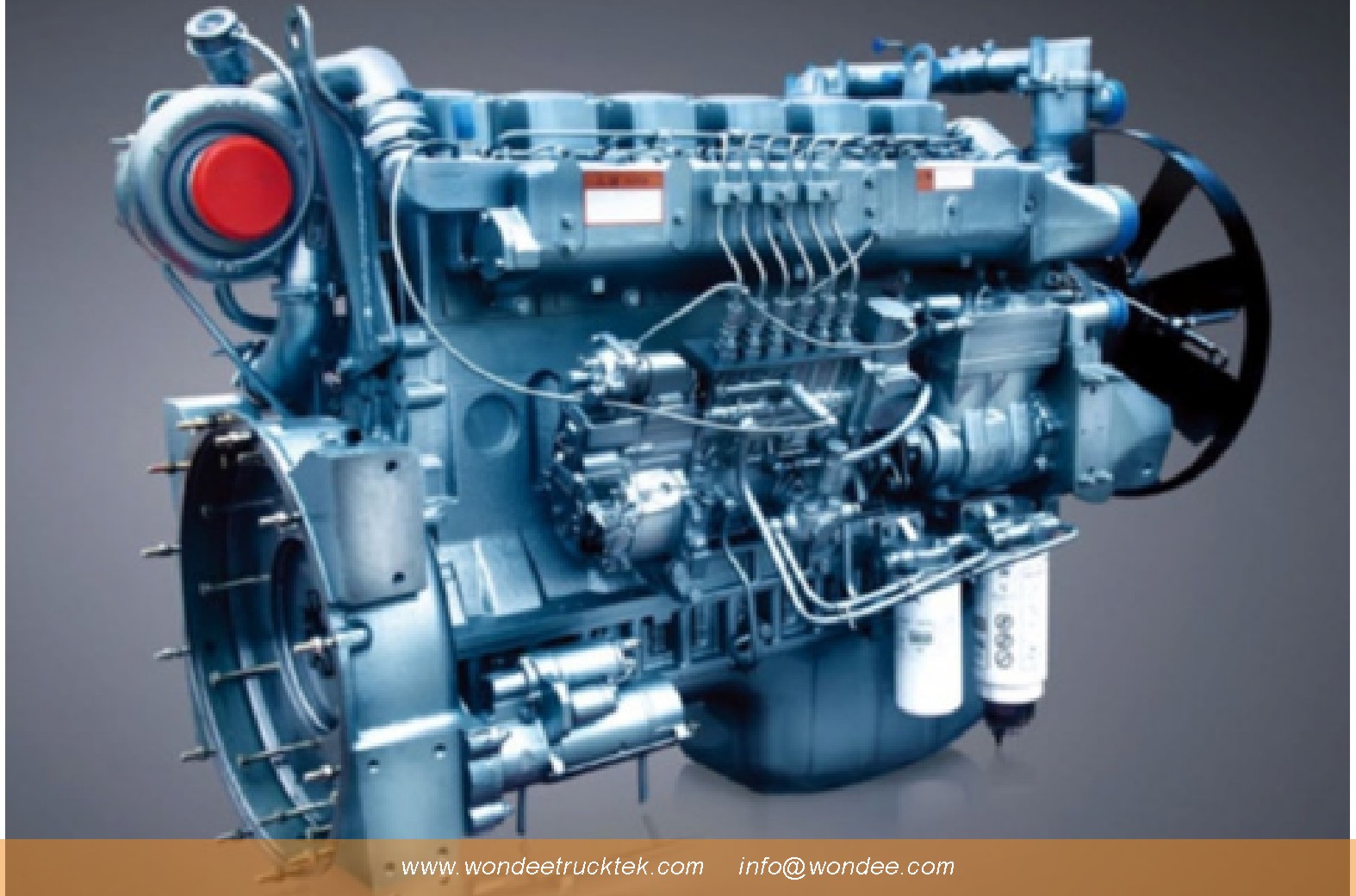 D10 series engine
It adopts the 4th generation wide cylinder Styer D10 series engine which has rigid body and longer service life and is more reliable than similar homemade engines. International advanced intelligent high pressure common rail electric injection system, with genuine Germany auxiliary parts, can intelligently control the engine according to different road conditions and always ensure optimal engine running.
Featuring low revs, big torque, strong power, good noise and emission control technology, it can bring significant fuel economy.
Germany WABOCO dual cylinder air compressor has large displacement and low exhaust temperature, and features timely supplement of compressed air, which greatly improves engine reliability and brake safety.
WD615 engine for Eueo 2 emission standard.
MANN HUMMEL fuel filter fully guarantees filtration quality and efficiency, prolongs the service life and reduces cost.
III. Clutch & Transmission
Clutch
SINOTRUCK 430 Diaphragm spring clutch is mounted as standard clutch.
Featuring simple and compact structure, good balance, stability, heat dissipation and ventilation, as well as big torque, its quality and performance reaches advanced international level.
Transmission
SINOTRUCK HW series transmission is mounted as standard configuration, which uses aluminum alloy housing and has lighter weight. The main box adopts double intermediate shaft structure, and the auxiliary box adopts planetary mechanism, which greatly improves the reliability of the assembly. It also features wide range of gear ratio, big first gear ratio, heavy load start, and strong power for climbing, which lead to much superior performance.
IV. High Strength Frame

Frame assembly
Adopts MAN technology frame. The new design of frame assembly takes TG series frame as reference: the front end of the longitudinal beam is mounted with reinforced one-piece front overhang bracket and the horizontal beam, which greatly improves the rigidity of the frame, and improves the reliability of engine and cab suspension mechanism. The frame structure is optimized: large span horizontal beam connecting plate and partial reinforcement structure provides more evenly stress distribution; standard orifice position is favorable to the allocation and connection of various assemblies.
The trapezoid frame, which is wide in the front and narrow at the rear part, is suitable for multiple kinds of engines and can improve the vehicle's stability. The rear part is 850mm wide, which is very convenient for modification. The frame wing is widened to 90mm and adopts high strength steel.
(8+5)×300×80 for dump truck (Version 12, 32)
(8+8)×300×80 for reinforced dump truck
(8+8)×300×90 for B42
V. Drive Axle

HC16 Casting Drive Axle
The axle housing is made of unique spheroidal graphite cast iron, featuring better machinability, higher anti-bending deflection performance and higher reliability compared to common cast steel axle. The axle also features low noise and is more applicable to tough road conditions with extra heavy load. Through stringent bench test and field test, the performance of the product reaches international advanced level.
Shipment
Nude Packing or Waxing. The packing of the commodity shall be in accordance with the export standard packing of the manufacturer, be suitable for long distance transportation of ocean and inland. We would be taken measures against moisture, shocks and rust according to the special needs of the commodity.
The main products include semi trailers, leaf springs , spring steel flat bar, mechanical suspension, air suspension, bogie suspension, air bag, semi trailer axle, landing gear, brake drum, brake shoe, brake lining, mudguard, slack adjuster, air tank, coupling, emergency relay valve, brake hose, turntable, wheel rim, bolts, fifth wheel, king pin, air chamber, twist lock, jack, drawbar and so on.
MESSAGE
Filling in your communication information will help us get in touch with you in time.